Newsletter
The veterinarians and staff at the Princeton Animal Hospital & Carnegie Cat Clinic are pleased to provide you with an online newsletter. This fun and fact-filled newsletter is updated on a regular basis.
Included in the newsletter are articles pertaining to pet care, information on our animal hospital, as well as news on the latest trends and discoveries in veterinary medicine.
Please enjoy the newsletter!
Current Newsletter Topics
Are Rawhide Chews Safe?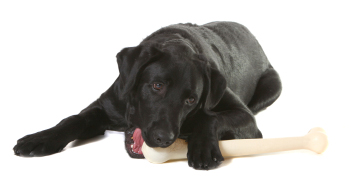 Rawhide chews have been the treat of choice for dogs and their owners for more than fifty years. They were introduced as a healthy alternative to chewing on shoes or furniture, and as a way to keep the dogs' teeth and gums healthy.
Many veterinarians recommend rawhide chews to benefit dental health, with some exceptions and cautions. However, some vets are very much opposed to the practice of giving these treats to dogs, citing cases where the pieces became lodged in the throat or intestines. Here are two very different opinions found on the internet:
One opinion, from a veterinary website:
Dog treats come and go, but rawhide treats have withstood the test of time - for all the right reasons. Introduced in the late 1950s, these natural chew treats can benefit your dog's dental health and satisfy his need to gnaw. However, the advantages are greater than clean teeth and unchewed furniture. Poor dental health fosters the growth of dangerous bacteria. If unchecked, infections, gingivitis, tooth loss, and kidney or heart disease can result. As tough rawhide is chewed and moistened by your dog's saliva, it softens and wraps around teeth to help scrape away food debris from teeth. Therefore, rawhide is a great way to help your dog safely chew his way to better overall health.
Another opinion, from a second veterinary website:
Try Some Safer Treats: Rawhide is absolutely one of the most dangerous treats that you can give to your dog. Unfortunately, a lot of manufacturers and pet stores still do very well at selling the product. But because there are a lot of uninformed consumers, the sale of rawhide products will likely continue. However, because you are informed of the dangers of rawhide chews, it is best to never allow your pet to eat or chew them. The bottom line is this: rawhide is not safe for your dog. There is no regulation over ingredients used in them, they contain many harmful chemicals and they present a serious choking hazard for your dog.
How Do You Decide? Ask Your Veterinarian
It's safe to say there are negatives and positives to the practice of giving these treats to your dog. The best advice will come from your veterinarian, who knows the size, age and breed of your dog. Here are some pros and cons, and some steps you can take to make sure your dogs are safe if you and your vet decide to allow them to chew rawhide.
Rawhide Chews: Pros
Satisfies the urge to chew
Helps keep teeth clean
Enjoyable for the dog
Rawhide Chews: Cons
Can break into small pieces that are a choking hazard
Can get soft and mushy, and stuck in the throat because they mold to the shape of the throat
Are sometimes made of old newspaper, especially those from China
Can cause intestinal blockage
Some are treated with chemicals such as formaldehyde and bleach, and some have been found to contain lead and mercury
Not regulated by FDA because they are not classified as food
Alternatives
If the vet indicates that rawhide chews are unsafe for your particular dog, there are many alternatives on the market today. Some alternatives are made of rubber, nylon or beef. You can buy beef shank or marrow soup bones at the grocery store, cook them, and give these to the dogs to chew on. Some of the other great alternative products you may want to consider include:
Nylabones
Healthy Edibles Natural Dog Chews
Dental Chews
Dogzilla
Booda Bones
Pigs' ears
Deer antlers
Decrease Risks by Following These Guidelines
There are risks involved whenever a dog chews on items that can break into small pieces or become lodged in the throat or intestines. Taking some simple precautions will help keep your pet safe.
Always supervise when allowing your dog to chew on a rawhide dog chew or rawhide dog bone, and remove the treat when it becomes small enough for the dog to swallow. If you decide to purchase rawhide chews, be sure to get top quality rawhide dog chews and rawhide dog bones produced within your country to reduce the possibility of contamination.
Offer rawhide chews that are appropriate for the individual dog's size and weight. If a dog shows evidence of skin or gastrointestinal problems after chewing on rawhide chews or rawhide bones, discontinue the rawhide product and if symptoms don't clear up, be sure to consult with your veterinarian.
Tips for Multiple Cat Households
Despite their independent ways, your cats are very sociable animals. Of course, they will never let you know that, which is why they quickly hang up the phone when they hear you coming. But the truth of the matter is, they can get lonely and bored if you don't spend enough time trying to get them to play with you.
To minimize the chance of your cat feeling isolated, you may want to consider getting another cat. And to minimize the chance of that cat getting lonely, you may want to get yet another cat...and so forth. Here are some tips you might find useful for multiple cat households.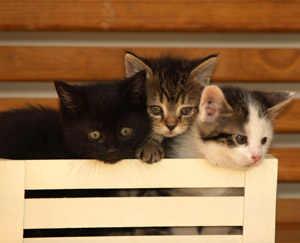 In general, the following combination of cats seem to work best: two kittens, a mature, neutered cat and kitten, or two mature neutered cats (either two females or a male and a female). The most volatile combination seems to be two uncastrated mature male cats.
Consider your current cat's personality before introducing a new cat. An active cat is more likely to accept a new kitten. A quieter, more reclusive cat might prefer a mature, adult cat as a companion.
If your cats exhibit personality conflicts, you can reduce the tension between family felines by making sure each cat has enough personal space and personal possessions to fulfill its needs.
Make sure you have at least one litter box on every floor and that they are easy to get to in an emergency. To avoid territory conflicts between cats, consider placing litter boxes in various locations throughout the house to avoid the exclusion of one cat from another cat's territory.
Be sure to keep plenty of clean, fresh water available for your cats at all times. Keeping bowls in multiple locations throughout the house might be a good idea.
Keep scratching posts and beds in several locations to accommodate all the cats in your household.
Online Pet Pharmacies - Saving Money or Risk to Your Pets?
It sure SEEMS like it would be less of a hassle... ordering your pet's medications from your living room and laptop computer. But, how much do you know about these online pet pharmacies? Which ones are reputable and which ones should be avoided? Watch this video for tips on spotting the bad sites and ideas for how you and your veterinarian can work together to make sure your pet gets the right medications and the best care.
Legal Responsibilities of Pet Ownership
As a pet owner it is important for you to understand what your responsibilities are under the law. Most states and municipalities have a range of laws and ordinances on their books that are intended to protect not only the public, but animals as well. Failure to follow these requirements could not only cost you, but land your pet in some serious trouble as well.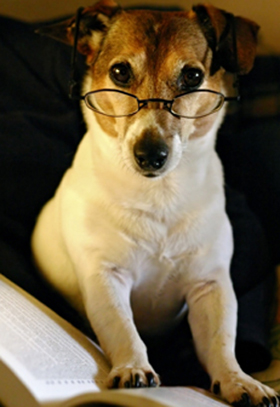 The problem is that with each state and municipality relying on a variety of laws and requirements, clearly understanding what your responsibilities are can be difficult. However, there are a few good resources on the Web.
These include:
Michigan State University College of Law's Animal Legal and Historical Center, which has a searchable database at: www.animallaw.info.
The American Society of the Prevention of Cruelty to Animals (ASPCA) also has a lot of information on its site at: www.aspca.org.
In a general sense, though, it's important to know that most state and municipal laws are designed to ensure pets are treated properly—provided with proper food, shelter, exercise, healthcare and so on—and that they are not a danger or nuisance to others. This includes laws requiring rabies vaccinations, limits on the amount of noise a pet can make, and how damage to property that is caused by a pet is to be handled.
There are also laws requiring people to pick up after their pets (pooper scooper laws) as well as how they are to be tied up (some states require runs and restrict tying to immovable objects such as a pole, tree or dog house). There is also a wide range of leash laws. For example, most states leave to municipalities whether they will require dogs to be leashed at all times or not. States and municipalities also often mandate leashes and other accommodations at parks, beaches and other public spaces.
Some laws restrict the number and type of pet that people may own.
Penalties range by state and municipality as well. They can include fines for owners as well as impoundment for the animal. For example, if a dog is found not to have been vaccinated for rabies, the owner may be fined and the dog impounded until it is shown it does not have rabies. In some instances the animal could be put down if it is seen as a risk or the owner is incapable of adequately caring for the animal.
One area where there are a number and variety of laws is when a dog bites a person. All states and municipalities have laws in this area (municipalities are generally required to enforce state law), but they may vary in terms of how liability is assessed. For example, some may say the dog and owner are liable and must face consequences after a single bite, no matter what the circumstances were. Other states make an exception if it is the first time a dog has bitten a person.
Some states create certain exceptions such as if the person bitten was trespassing, if it was a veterinarian that is bitten while treating the dog, or the person bitten provoked the dog.
Since the penalties can be severe—steep fines, victim compensation, impoundment for your dog and even euthanasia—it is important to prevent a bite from happening in the first place. Posting warning signs, good fencing, and a leash while walking can help. However, the ASPCA also recommends learning the telltale signs that a dog may feel threatened and about to bite, such as some combination of the following: direct staring, pulling, barking, growling, snapping, and lunging.
Decision to Have Your Dog Neutered or Spayed
Having your pet spayed (ovariohysterectomy) or neutered (castrated) is an inexpensive and realistic method of pet population control. The number of unwanted adult and young animals that are euthanized each year in the United States is astounding. Aside from the pet overpopulation problem, neutering a male dog and spaying a female helps prevent, and even eliminates, medical problems associated with hormonal imbalances.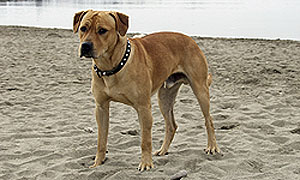 Male and female dogs reach sexual maturity around nine months of age. Often, male dogs reach maturity slightly later than females. Sometimes confusion exists between sexual maturity and normal puppy behavior. Normal puppy behavior is often exhibited when he or she straddles the leg(s) of an individual. This behavior has nothing to do with sexual maturity and is performed by both male and female puppies.
It is usually noticeable when a female dog (bitch) reaches sexual maturity. A bloody discharge is seen around her external genital area. This bloody discharge is significant and can last up to 10-14 days. Along with the discharge, the external genitals become swollen. This is the first phase of her heat cycle and is called "estrus." During the last few days of the estrus phase, the bitch is receptive to the male and can get pregnant. Similar to cats, the gestation period lasts about two months. At the end of the two-month gestation period, puppies (puppies, not a puppy) are born. A typical litter size averages between five to 10 puppies.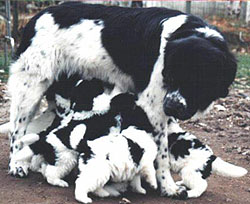 Aside from having puppies, non-spayed females are more susceptible to mammary gland tumors and uterine infections. Pyometras (infections of the uterus) are extremely common in non-spayed bitches and almost always require emergency surgery. Mammary tumors get large and multiply quickly if left untreated. Having your dog spayed can eliminate both of these conditions.
Having your male dog neutered makes him a better pet. Instead of roaming, he will spend more time at home. Non-neutered male dogs often exhibit aggressive behavior, especially if a non-spayed female is in the vicinity. Dog fights between two non-neutered dogs are not uncommon. Usually one of the dogs ends up severely injured.
An aggressive dog will not hesitate to bite a human. Often, non-spayed and non-neutered dogs are significantly more aggressive than spayed and neutered animals. Many people receive serious injuries resulting from dog bites.
Dog neuters and spays are generally performed when animals are six to nine months of age.
Proper Weight Loss in Cats
Obesity is the most common nutritional problem of cats. Since most cats are relatively inactive, it is not surprising that up to 40 percent of all cats seen by veterinarians are overweight. Obesity puts a considerable number of cats at risk for associated diseases such as lameness, feline urologic syndrome, diabetes mellitus, skin problems and cardiac disease. Due to the amount of fat that is present in the body of an overweight cat, x-rays are sometimes difficult to assess and surgical procedures can be difficult to dangerous.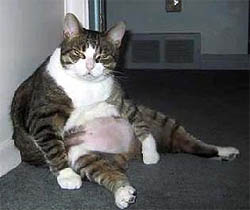 It is tempting to tiptoe around the issue of feline weight reduction. One reason is lack of client acceptance of the problem. The realization of owning an obese cat can sometimes prove awkward if the owner is also markedly overweight. More important to remember, however, is that although the "lose weight fast" mantra is appealing to humans, it can be deadly for cats. Rapid weight loss in cats is associated with hepatic lipidosis (fatty liver disease), most commonly seen in obese, spayed female cats undergoing a short-term "crash" diet.
Traditional high-fiber (up to 25 percent) weight-loss diets can also cause problems, such as excessive stool output, poor skin and coat condition and decreased nutrient digestibility and absorption. Weight loss can be achieved safely, however, with a low-fiber, low-calorie diet. Research has found that a cat can lose an average of 1.5 percent of their body weight per week over a 16-week period with no adverse effects. Ultimately, it is important to work with your veterinarian in order to find a diet that your cat likes, as well as having the ability to help your cat lose weight safely.
Another weight-loss tool on the horizon is L-carnitine. Obtained from diet or synthesized by the body, L-carnitine facilitates "fat-burning" and is already used in humans. Following studies, it has been concluded that a lipid solution of supplemental L-carnitine accelerates weight loss and may increase the rate of fatty acid oxidation in cats. It has been cautioned, however, that this effect requires further investigation. As with human diets, there is no magic feline diet pill!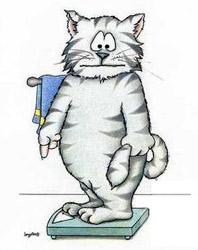 Before embarking on a feline weight loss program, it is important to have your veterinarian assess your cat's body condition, current health condition and medical history. Weight reduction in cats is a tough problem. Research confirms that cats can lose weight safely with the proper diet, but with so many foods to choose from, it can be difficult to go it alone. Use both the advice from your veterinarian and the choice of your cat (if he won't eat it, then it might not be such a good choice!) to determine the right food. Just remember: as cats lose weight on a well balanced portion, they become more active and playful and have a healthier appearance. This is a win-win situation!